Change Management Coaching
MUMKIN offers Change Management Moaching to companies and businesses. We have certified Change Management Coaches who can assist businesses and companies to successfully implement the change process within their organizations. MUMKIN uses ProSci ADKAR framework as their change management approach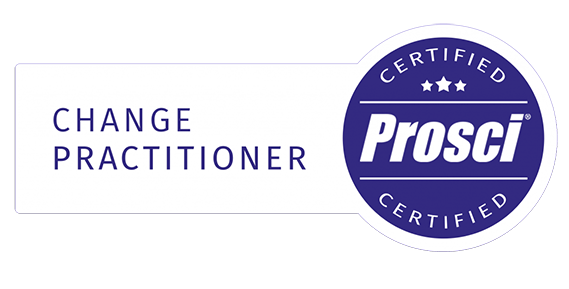 What is Change Management?
Change management is an integrated methodology that coaches use to  guides through the process of implementing change. It includes how you prepare, equip, and support others in your team to effectively accept change. Implementing change management empowers businesses to deliver results on each change more efficiently and hence, develop competencies that cultivate the organization's competence to tackle more change at one time.
Every organization needs to implement change at one point or another. The change may be required in processes, job roles, organizational structure, and types of technology the organization uses and a change coach knows how to take you through it successfully.
Although all changes are unique and so are the individuals. But years of research have shown that there are some actions that can be taken to influence or facilitate people and organization in their individual and organizational transitions.
Why You Need A Change Management Coach
ProSci change management is a structured process through which our certified change management coaches help ease the transition process. They help your employees to comprehend, acknowledge, and incorporate changes in their current business environment. 
A change management coach can provide direction and purpose for all other change management activities. Our certified coaches can set your teams up for success by outlining the unique characteristics of the change along with its risks and potential resistance.
MUMKIN coaches can help you formulate the change management strategy in order to successfully implement a change management methodology. This will serve as a foundation that provides direction for informed decision making; and hence bringing the project to life. The change coach will also describe who and how it will impact the organization.
7 Compelling Reasons for Working with a Change Management Coach
Many organizations are moving from a project-by-project perspective towards embedding change management in order to build organizational competencies and capabilities so that they can successfully and more efficiently deploy change management across and throughout the organization.
Here are the 7 most compelling reasons why you should work with a change management coach.
A change management coach can drive change more successfully and can help an organization to achieve greater results and outcomes. This will build organization competencies to successfully implement change on critical projects.
With today's cutthroat competition in the business sector, organizations need to become better at implementing change so that they can handle the amount and frequency of change occurring.
Organizations that support the importance and value of their people can align their practice with their values.
With successfully deploying the change management, you can prepare your organization or business for the future as all businesses need a significant amount of changes in order to remain competitive in the industry.
Change management practices can create reliability and proficiencies in approach resulting in an organization becoming more successful as compared to the standard approach in place.
With change management practices, you can build necessary internal competencies and capabilities in your employees.
Lastly, change management methodology can also address the costs of poorly managed change.
The Prosci ADKAR model has been recognized as the industry standard for change management coaches worldwide. The ADKAR model is a structured approach for change management that supports, improves, and reinforces the organization's change management approach. The ADKAR model can be quickly and very easily deployed throughout the organization.
The ADKAR model provides you a results-oriented methodology for responding to a simple truth, that is, company-wide change happens one person at a time. It is an easy and applicable step-by-step approach that supports you and your team to achieve success – regardless of how difficult the procedure, system, approach, or culture you need to transform.
Benefits of Using ADKAR Model Change Management
Here are some of the most common benefits that you can get by deploying the ADKAR model of change management in your organization.
● Facilitates the individual change
● Empowers managers
● Equips senior leaders with necessary tools
● Identifies barrier points
● Lets you develop and implement tailored action plans
● Focuses on user adoption
● Has a strong reputation
● Increases in the effectiveness of project planning
● Increases organizational change capacity and competency
● Provides effective progress tracking
● Increases consistency on project delivery
● Provides a way of talking about change
● Integrates with project management
● Helps you identify the root cause of resistance
● Helps you improve your communication throughout the project
● Helps you identify when follow-up or reinforcement is needed
● Acts as a criterion for evaluating go-live readiness on a project
● Provides a tool to identify and align change management milestones
Want to know more? Connect with us!
Fields marked with an * are required
Would you like to speak to one of our advisers over the phone? Just submit your details and we'll be in touch shortly. You can also email us if you would prefer.