Run your day… or the day will run you
February 3, 2023
Posted by:

admin

Category:

Self Development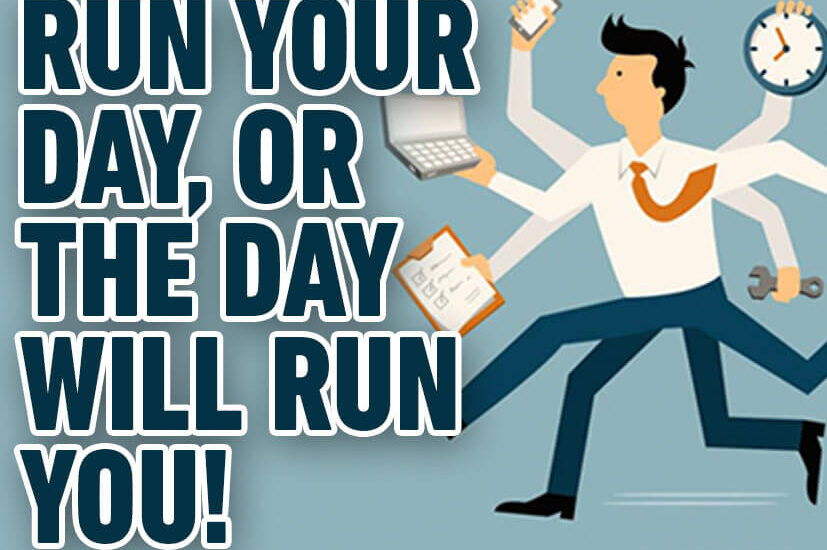 I know Hassan for the past 25 years and have been good friends with him since the time when we knew nothing about what goes on in this world. He works at a senior management position in a multinational company.
Hassan called me on phone last month and sounded very desolate. Upon inquiring, he talked about the dilemma that every senior manager faces in his day to day life,
"I don't have enough time, I wish the day was 25 hours long…"
I felt deeply for him as I could easily relate to his dilemma, because I had been a victim of the same for at least 15 years before I finally overcame it.
Being a Coach, I decided to meet him, to bring him clarity and to empower him to manage his time better, in order to lead a better life. We agreed to meet the next morning at some peaceful spot on the beautiful Margalla Hills in Islamabad.
It was early morning and the weather was beautiful. We sat down, ordered tea and started talking…
I started talking about Hassan's daily schedule. Our discussion led Hassan to understand the main reason of high stress in his daily life, that he had too much to do. This is common with almost all of us. We have to do much more than our forefathers had to do, in the same amount of time, to fulfill our roles. As a result, we feel overwhelmed, and consequently "stressed out."
 I explained to Hassan, what I took 15 years to learn. The solution to dealing with the stress of too much to do is good time management. The first step in managing time is to attain a balanced daily schedule by organizing and utilizing our time wisely. Without good time management skills, we can easily fall behind in our responsibilities and feel like we do not have enough time.
 Time has been termed as "the scarcest resource" by some researchers; still it is the most wasted and the least concerned element at both the organizational and the individual levels.
The scarcity of time, if not managed properly, results in poor management of everything else in life and thus results in a decline in the overall quality of life.
Proper management of time increases efficiency, personal and professional satisfaction and decreases stress. In other words, time management is very vital for our overall well-being.
 We can do very simple things every day to take control of our actions that help us manage our time and eventually start living a better life. During the discussion with Hassan, I explained a few exercises which I adopted to make my life easier and more managed.
 First and foremost, it is always a good idea to list down your goals and make them S.M.A.R.T. (specific, measurable, achievable, result-oriented and time-bound). Writing down the goals gives clarity. Once goals are written down, the next natural step is to identify ways to fulfill them, i.e. taking desired actions. The smaller and the clearer the actions, the easier it is to achieve your goals. As you define actions, you will see what KPIs will help you measure your progress towards achieving your goals.
 As our discussion progressed, we talked about the importance of planning the next day. If you write down the tasks for the upcoming day before going to bed, you can visualize your whole day. The list of tasks will also help identify important and urgent tasks, the ones that need most attention. If it is not important, it might not need to be done; if it is not urgent, it can always be done later.
 All successful people share a few habits. One of those habits is sleeping early and rising early. Hassan repeated the childhood saying "Early to bed and early to rise, makes a man healthy, wealthy, and wise" to re-iterate the point. We did learn some practical things in childhood, but somehow had forgotten them in the hustle and bustle of life.
As our discussion came to an end, Hassan made a great conclusion. He learned the importance of routine and following it every day. Once routines are established, going through the day becomes faster as we know what to do next.
 It is amazing to see what a person can do once they are steered in the right direction. Hassan left with the conviction to change his habits and apply the framework of planning and defining goals in his life. He seemed to have come up with an action plan to deal with his stress.
 Yesterday, Hassan called me to tell that he is much better in managing his time with these simple tweaks in his life and is happy with the fact that he is not only achieving more during his work hours, he is also improving in his relationships.
This article first appeared at https://bit.ly/2TGdvcS
Would you like to speak to one of our advisers over the phone? Just submit your details and we'll be in touch shortly. You can also email us if you would prefer.
Error: Contact form not found.